St. Patrick's Day is a big deal in our family. We have Irish on both sides of our family so we go all out in celebrating. In the morning, I usually make little messes around the house and put green food coloring in the toilet so the kids think a leprechaun came by. My older daughter makes a little trap with money inside in hopes of catching one. The girls get so excited when they wake up and think a leprechaun stopped by. Find more creative ideas here.
I also make some delicious St. Patrick's Day pancakes for the kids. They are easy to make and taste good too. Find the recipe here.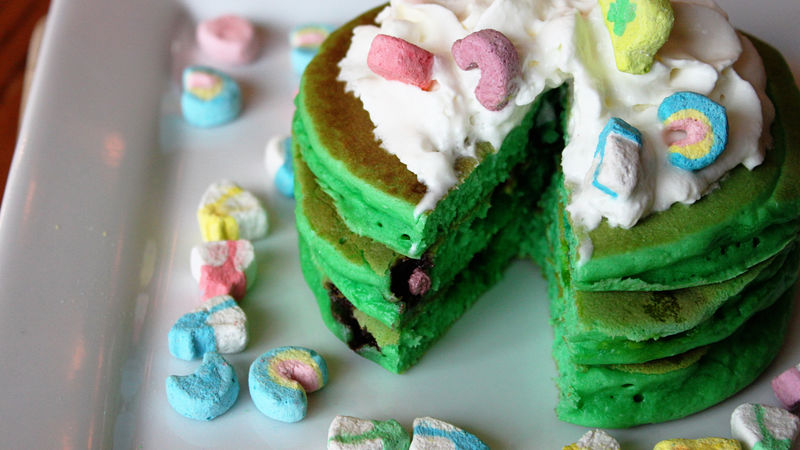 After breakfast, we get everyone ready and dressed up in green! We then go to a family-friendly St. Patrick's Day event. The kids love watching the live bagpipers and Irish dancers. There is usually kid games, crafts and of course tons of food.
After our family outing, we come home and watch one of our favorite movies, Darby O'Gill, and the Little People. The kids love the music and the leprechauns. After the movie is over, the kids start getting restless waiting for dinner to finish cooking. I try to find some fun crafts they can do to keep them busy and entertained, find some ideas here.
I also include some fun yet educational activities from education.com. They have a variety of worksheets and activities that my girls really enjoy! Here is a free sample for you to try. Just click the attached links to download the PDF files.
Make spelling practice fun this St. Patrick's Day as students use their skills! Be sure to check out Education.com for more fun learning resources.
We always end the day with my favorite homecooked Corned Beef and Cabbage. We put it in the crockpot in the morning and let it cook all day. When it's done it tastes amazing! Check out my favorite recipe here.
Overall, we end up having a really fun day celebrating being Irish! What fun traditions do you have for your family?