I was compensated for this post. This post also contains affiliate links and I will be compensated if you make a purchase after clicking on my links. 
Have you ever been to the Dollar Tree? If not, you are missing out! The Dollar Tree is this magical place where everything, is only $1! It's a place where you can discover new treasures, have fun shopping, and find what you need at an affordable price. My kids LOVE going to the Dollar Tree because they know that they can pick out any toy of their choice, because everything is only $1, (as far as limiting how many items they get is another story lol!) Mommy loves shopping there too but I do tend to go overboard, especially around the holidays! During the holidays it's so fun to find what cute stuff I can decorate with.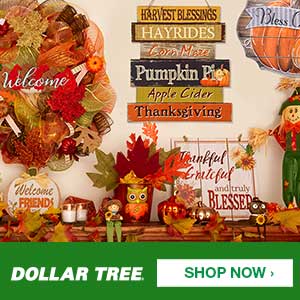 The Dollar Tree carries a variety of products including many trusted brands at extreme values. Some of the products you'll find at Dollar Tree include housewares, glassware, dinnerware, cleaning supplies, candy, snacks, food, health and beauty, toys, gifts, gift bags and wrap, party supplies, stationery, craft supplies, teaching supplies, books, seasonal décor, and more! Everything you need for every day, every holiday, every occasion… and every single item is only $1 (or less)!
Not only do I love going to the Dollar Tree for Holiday Decor, but I also love to go when I am preparing for a party. There is a variety of party decor, tissue paper, gift bags, balloons, candles, and cards available. The Dollar Tree is always my first stop for all my party needs. Planning a party adds up and us Moms need to save when we can.
Since I was already a fan of the Dollar Tree, I was so excited to become an affiliate for their amazing company. I was even more excited to be able to share some BIG news with you! As of Aug. 30, Hallmark is bringing HUNDREDS of new cards to the Dollar Tree! This is a big deal for me, as I already love to get all my cards from the Dollar Tree. So I was anxious to see what samples were coming my way. I was sent two of the main types of cards that will be hitting stores Aug. 30th, Hallmark Expressions & Hallmark Heartline.
Both sets of cards had a variety of prints for every occasion. Birthday cards, Thank You cards, Baby Shower cards, and Sympathy cards, are just some of the many new cards available. All of the cards came in bold, colorful prints and designs. There is really something for everyone in this new collection from Hallmark!
There are over 6,500 Dollar Tree stores nationwide and on August 30th every store will carry Expressions from Hallmark, $1 each and Heartline a Hallmark company, 2 for $1. With hundreds of new greeting cards to choose from, you can celebrate every moment with your friends and family without breaking the bank!
Whether it's a Birthday for Dad, a Graduation for your son, or a Retirement party for your co-worker, the Dollar Tree & Hallmark has got you covered with the quality you love and prices you can't beat.
So make sure you head to your local Dollar Tree as of Aug.30th, to check out the new cards and any other goodies you find along the way.
Don't forget you can always shop online at the link below!
Affiliate Link >>>>>> Everything Is Just $1 At DollarTree.com!